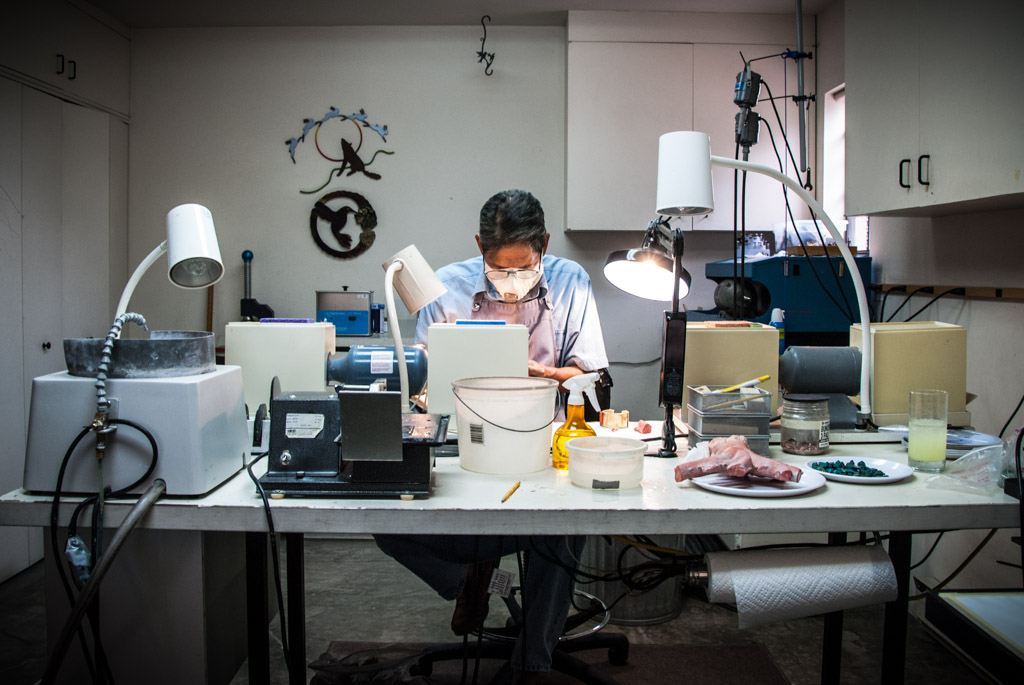 Richard Chavez was born and raised in San Felipe Pueblo, one of the more conservative and traditional Pueblos of New Mexico. San Felipe Pueblo holds the distinction of being one of the only Pueblos alongside the Rio Grande River.
In the early 70's, Richard worked as an architectural draftsman for Harvey S. Hoshour, A.I.A. Mr. Hoshour came to Albuquerque, New Mexico after working for the Bauhaus Architect, Mies Van De Rohe. The Bauhaus philosophy emphasized the principles of purity, sparseness, and balance that later influenced the designs by which Richard's jewelry would become known.
As the founder of Chavez Studio, Richard has become known to his collectors as a lapidary artist with deep foundations in refinement of design, dramatic styling, and pristine craftsmanship. Richard is constantly in a process of elevating his craft by seeking out new materials of the highest quality, by experimenting with new polishing techniques to meet his exacting standards, and by constantly refreshing his line of designs. Ever the perfectionist, you will only find his hands in every step of the process of every piece he creates.
From start to finish, each piece of jewelry involves a number of steps; beginning with sketches to determine certain designs, followed by soldering, sanding, cutting, polishing, and finished with the lapidary process. Each step is done entirely by Richard, with the lapidary process being the most intensive. This time-consuming labor of love begins with Richard seeking out and buying only the best raw materials which he then slabs to become part of his signature designs set into a gold frame. Every stone is cut rough, ground into shape, and polished before it is set into place. Each stone requires muiltiple steps before it is ready before the final polishing and setting.
Name recognition has come from the high standards Richard sets for his Jewelry designs. His work has received numerous awards since his first competition in 1976. Yet in 1990, Richard decided to stop entering juried competitions feeling he no longer required the competitive validation. Instead he finds the positive reactions and comments from the public and his esteemed clientele to be more gratifying than any award he could receive